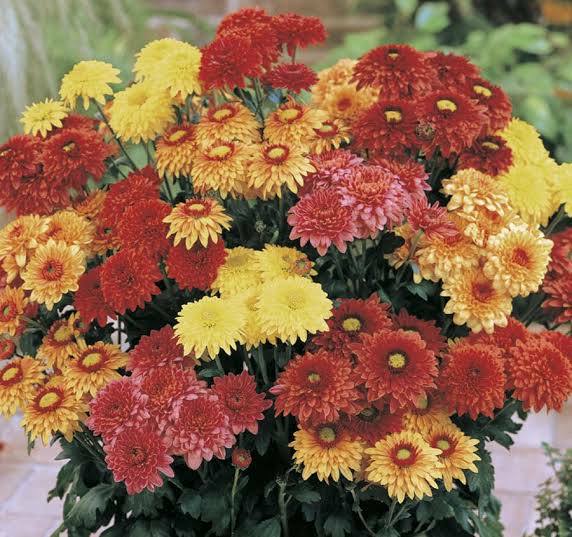 Crysanthemum Poly Bag, Sevanthi Plant - Bulk Rate
Sale price
Rs. 79.00
Regular price
Rs. 250.00
Free Shipping: On all orders above Rs.750
Crysanthemum Poly Bag, Sevanthi Plant - Bulk Rate
Sale price
Rs. 79.00
Regular price
Rs. 250.00
Product description
Shipping & Return
Minimum Order Quantity is 3
Know Your Plants
Crysanthemum or mum are  are highly low maintenance beautiful plants. These plants produce mildly sweet fragrant flowers in autumn till winter. They are used as cut flowers and  bearer of color gardens.
They come in million color combinations we are selling spray varities from 25 different color
Processing Time: We take 2 day to make plant ready for journey. Before packing we give them fertilizer and fungicide for best results.
Packing: We send 1 plant in small poly bag in strong customized cardboard boxes to ensure zero transit loss.
Shevanti Plant Benefits 
Shevanti (Tagetes erecta), also known as African Marigold, offers several benefits, including:
Pest control: Shevanti plants are known to repel harmful pests such as aphids, whiteflies, and mosquitoes, making them a great addition to any garden.

Decoration: With their bright yellow, orange, or red blooms, Shevanti plants add vibrant color to any garden or landscape.

Edible flowers: The petals of Shevanti plants are edible and can be used to add color and flavor to salads and other dishes.

Companion planting: Shevanti plants are often used in companion planting to improve the health and growth of other plants by repelling pests and improving soil health.

Cultural significance: In many cultures, Shevanti is used in religious and cultural celebrations, adding to its significance and cultural value.

Easy care: Shevanti plants are relatively hardy and can be easy to care for, making them a great choice for gardeners of all skill levels.
Shevanti Plant Care
Shevanti (Tagetes erecta), also known as African Marigold, is a popular and hardy annual flower. Here are some tips for caring for Shevanti plants:
Light: Shevanti plants prefer full sun and at least 6 hours of direct sunlight each day.

Soil: They prefer well-draining soil that is rich in organic matter.

Watering: Keep the soil consistently moist, but avoid over-watering as the plant may suffer from root rot.

Fertilizing: Fertilize every 2-3 weeks with a balanced, all-purpose fertilizer to encourage healthy growth and abundant blooms.

Deadheading: Regularly remove spent flowers to promote continuous blooming and prevent the plant from producing seeds.

Pest control: Shevanti plants are relatively pest-resistant, but may be susceptible to aphids, spider mites, and whiteflies. Treat with an insecticide as needed.

Winter care: Shevanti is an annual plant and will die back in winter. Discard dead plant material and plant fresh seeds in spring.
Shipping cost is based on weight. Just add products to your cart and use the Shipping Calculator to see the shipping price.
We want you to be 100% satisfied with your purchase. Items can be returned or exchanged within 30 days of delivery.