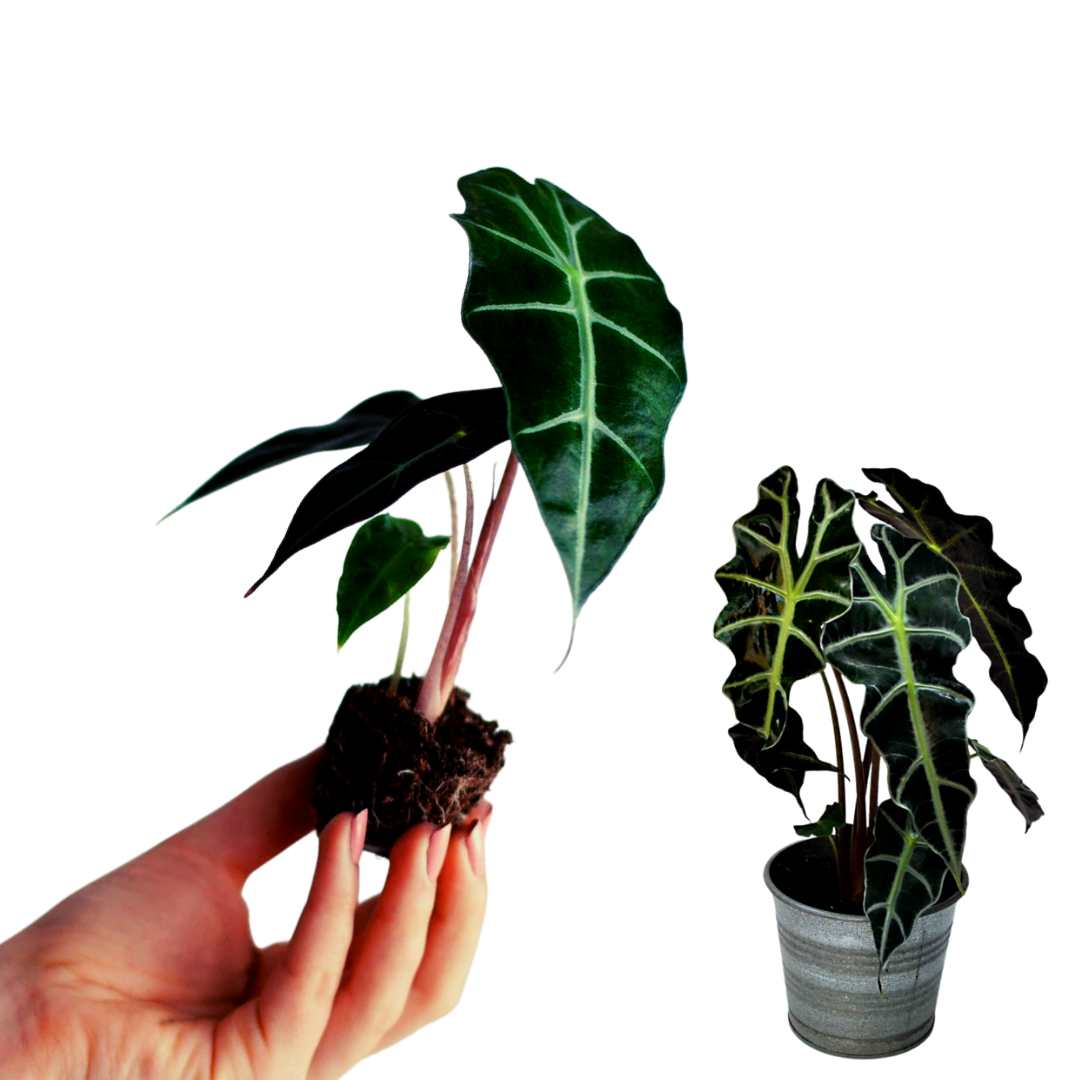 Alocasia African Mask Plants Netpot
Sale price
Rs. 155.00
Regular price
Rs. 999.00
Free Shipping: On all orders above Rs.750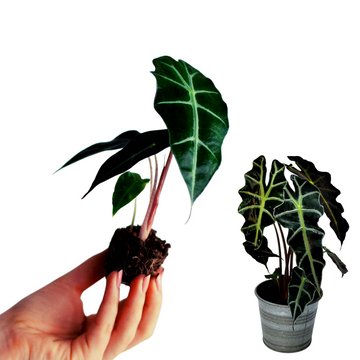 Alocasia African Mask Plants Netpot
Sale price
Rs. 155.00
Regular price
Rs. 999.00
Product description
Shipping & Return
Know Your Plant
Alocasia is a herbaceous plant which grows from rhizome or tubers. This plant has very broad fancy leaves and by nature it is perennial. Alocasia plant usually comes from south east Asia and Australian rain forests. Now a days many hybrid varieties of Alocasia is famous in plant markets which include Alocasia wentii, Alocasia odora, Alocasia polly , Alocasia Black Velvet , Alocasia silver dragon, alocasia Nebula , Alocasia macrorrhizos , Alocasia cuprea and many more. Fun fact about Alocasia is, Alocasia is close relative to colocasia and Taro which are edible vegetables.( Arbi in hindi)
 Alocasia Care
Light: Alocasia polly prefers bright, indirect light. It thrives in bright, filtered light or partial shade. Avoid placing it in direct sunlight as it can scorch the leaves.

Temperature: Alocasia polly prefers warm temperatures between 18°C to 32°C. Avoid exposing it to temperatures below 60°F (15°C) as it is sensitive to cold drafts.

Humidity: Alocasia polly prefers high humidity. It benefits from regular misting or placing it on a tray filled with water and pebbles to increase humidity levels. Consider using a humidifier if the air in your home is dry.

Watering: Keep the soil evenly moist but not waterlogged. Water thoroughly when the top inch of soil feels slightly dry. Alocasia polly is sensitive to overwatering, so it's important to avoid waterlogging, which can lead to root rot. Ensure proper drainage in the pot and avoid allowing the plant to sit in standing water.

Soil: Use a well-draining potting mix that retains some moisture but also allows excess water to drain. A mix of peat moss, perlite, and a small amount of compost or loamy soil works well.

Fertilization: During the growing season (spring and summer), feed your Alocasia polly with a balanced, water-soluble fertilizer diluted to half strength every two to four weeks. Reduce or stop fertilizing in fall and winter when the plant's growth slows down.

Pruning: Regularly remove any yellowing or damaged leaves by cutting them off at the base of the stem. This helps maintain the plant's appearance and overall health.

Potting and repotting: Alocasia polly prefers slightly snug pots, so only repot it when necessary. Repotting is typically done every one to two years in the spring. Use a pot that is one size larger, ensure proper drainage, and refresh the potting mix during repotting.

Pests: Watch out for common houseplant pests such as spider mites, mealybugs, and aphids. Regularly inspect the plant for any signs of infestation, and if detected, treat the plant with appropriate organic or chemical pest control methods.

Dormancy: Alocasia polly may go through a dormant period in the winter, during which its growth may slow down. During this time, reduce watering and avoid fertilizing as the plant's nutrient requirements decrease.
Alocasia Benefits
Air purification: Alocasia plants, like many other houseplants, have air-purifying qualities. They can help remove toxins and improve indoor air quality by absorbing harmful gases such as formaldehyde and benzene.

Aesthetically pleasing: Alocasia plants are known for their striking foliage. The large, vibrant leaves with unique patterns and textures add a dramatic and tropical touch to any indoor or outdoor space, making them highly sought-after as ornamental plants.

Biophilic connection: Having Alocasia plants indoors can create a connection to nature, contributing to biophilic design principles. Their presence can help reduce stress, improve mood, and create a calming and soothing atmosphere.

Visual interest and focal points: Due to their large and distinctive leaves, Alocasia plants can serve as focal points in interior design or landscaping. They add visual interest and can be used to create dramatic and eye-catching displays.

Shade and privacy: In outdoor landscapes, Alocasia plants with their large leaves can provide shade and create a sense of privacy when strategically placed. They can be used as natural screens or barriers to block unwanted views.

Environmental benefits: Alocasia plants contribute to the overall environmental well-being by participating in carbon dioxide absorption and oxygen release through the process of photosynthesis. They also help regulate humidity levels in their surroundings.

Educational value: Alocasia plants offer an opportunity for education and learning about tropical plants and their unique characteristics. They can be used to teach children or plant enthusiasts about botany, plant care, and the importance of biodiversity.
Why Budsnblush
Our Plant is 1.5 Year Old Stable Hardened Netpot Plant.
Pot size is 2 inch and plant is 2 to 3.5 inch in height.
We send plant with weed resistant soil topping.
So collect your always wished exotic dark beauty African Mask plant from

 

Budsnblush

 

and impress everyone.

Shipping cost is based on weight. Just add products to your cart and use the Shipping Calculator to see the shipping price.
We want you to be 100% satisfied with your purchase. Items can be returned or exchanged within 30 days of delivery.
Alocasia African Mask Plants Netpot
The plant is healthy nd green till now.