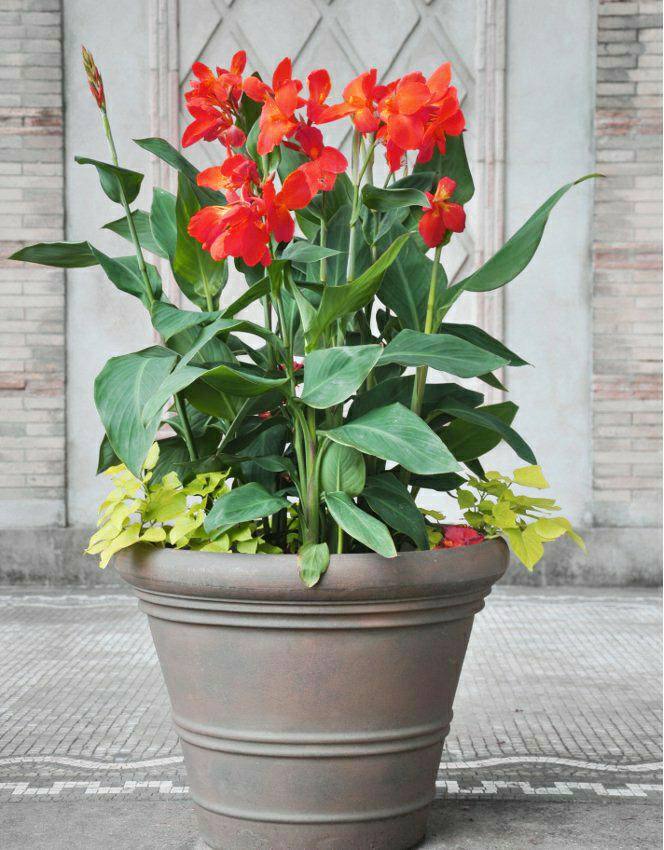 Canna Lily Red Flower, Extreme Heat Tolerant Summer Flower Plant
Sale price
Rs. 245.00
Regular price
Rs. 900.00
Free Shipping: On all orders above Rs.750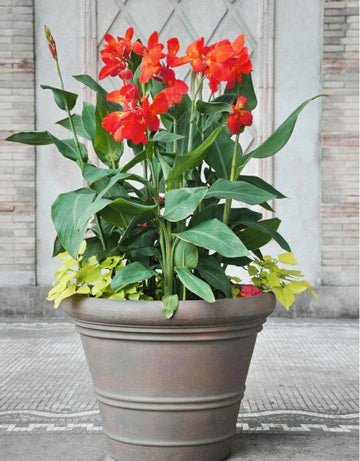 Canna Lily Red Flower, Extreme Heat Tolerant Summer Flower Plant
Sale price
Rs. 245.00
Regular price
Rs. 900.00
Product description
Shipping & Return
Canna Lily Care:
Canna lilies are beautiful and easy to care for plants that produce bright and colorful flowers. Here are some basic care instructions for your canna lily plant:
Light: Canna lilies prefer full sunlight, but they can also grow well in partial shade.

Water: Canna lilies need to be kept well-watered, but not waterlogged. Water the plant deeply once or twice a week, depending on the weather and the soil moisture.

Soil: Canna lilies prefer moist, well-draining soil. A good mix of peat moss, compost, and sand can provide the perfect growing medium for your plant.

Fertilizer: Canna lilies need to be fertilized regularly to encourage healthy growth and blooming. Use a balanced, slow-release fertilizer every four to six weeks during the growing season.

Pruning: Deadhead the flowers as they fade to encourage more blooming. Cut back the foliage to the ground in the fall after the first frost.

Overwintering: If you live in a colder climate, you will need to dig up the bulbs in the fall and store them indoors for the winter. Store the bulbs in a cool, dark place and replant them in the spring.
Canna Lily Benefit:
Canna lilies not only add beauty to your garden or home, but they also offer several benefits:
Pollinator attraction: Canna lilies produce large and colorful flowers that are attractive to pollinators such as bees, butterflies, and hummingbirds. This makes them an excellent choice for gardeners looking to attract these beneficial insects to their yard.

Low maintenance: Canna lilies are easy to care for and require little maintenance once established. They are drought tolerant and can thrive in a variety of soil types.

Edible: Some varieties of canna lilies produce edible tubers that can be used in cooking. These tubers are rich in starch and have a nutty flavor.

Ornamental value: Canna lilies are prized for their ornamental value and are often used as focal points in garden designs. They come in a wide range of colors and sizes, making them a versatile addition to any landscape.

Medicinal uses: In traditional medicine, canna lilies have been used to treat a variety of ailments, including fever, inflammation, and pain. While more research is needed to confirm these benefits, they suggest that canna lilies may have potential as a natural remedy for certain health conditions.
 Canna Lilies are recognizable for its vivid colors and bold silhouettes. They're one of the most popular choices for butterfly gardens in the world. They are pretty easy to grow at home.
Canna are extremely heat tolerant plants , bold colors and large size, are like flowery smiles in your garden. The fresh-from-the-paint box colors are simple to combine for maximum impact. So start collecting for your garden.
Shipping cost is based on weight. Just add products to your cart and use the Shipping Calculator to see the shipping price.
We want you to be 100% satisfied with your purchase. Items can be returned or exchanged within 30 days of delivery.