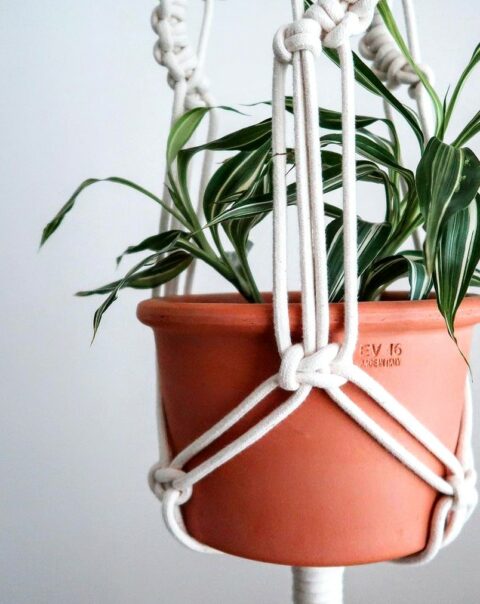 Macrame Hanger Twister Knitting Plant Hanger, Macrame Mania
Sale price
Rs. 799.00
Regular price
Rs. 2,299.00
Free Shipping: On all orders above Rs.750
Macrame Hanger Twister Knitting Plant Hanger, Macrame Mania
Sale price
Rs. 799.00
Regular price
Rs. 2,299.00
Product description
Shipping & Return
A macrame hanger twister knitting plant hanger is a unique and beautiful way to display your plants in your home or office. This style of plant hanger involves twisting and knotting the macrame cords together to create a spiral pattern that can support your plant.
To make a macrame hanger twister knitting plant hanger, you will need to choose the right materials and learn a few basic macrame knots. Here are the steps to create a simple twister knitting plant hanger:
Cut six lengths of macrame cord to your desired length, keeping in mind that the hanger will shorten when it is knotted. A good starting length is around 6-7 feet.
Fold each cord in half and attach them to a keyring or wooden dowel using a lark's head knot.
Separate the cords into three pairs and tie a square knot about 2-3 inches from the top of the cords. Repeat this step with each pair of cords.
Begin twisting the cords together, taking one cord from each pair and twisting them clockwise. Once you have twisted them a few times, take the second cord from each pair and twist them counterclockwise. This will create a spiral pattern.
Continue twisting the cords together in this way, alternating the direction of the twists, until you have reached the desired length for your hanger.
Once you have reached the desired length, tie another square knot at the bottom to hold your pot in place.
Place your plant into the pot and hang your new macrame hanger twister knitting plant hanger in a sunny spot.
To care for your macrame hanger twister knitting plant hanger, be sure to water your plant regularly and adjust the hanger height as the plant grows. You can also clean the hanger by gently brushing it with a soft-bristled brush or by using a handheld vacuum on a low setting. With proper care, your twister knitting plant hanger can be a beautiful and unique addition to your home decor.
Description
Macrame is a form of textile produced using knotting.
Usually, single macrame design preparation can take 2 hrs to 7 hrs for knitting via hand.
Pure Cotton thread is used and all products are hand Knitted Macrame.
The thread is off-white or white in color.
Price is for only 1 macrame
Plants and pots are not included.
Strong thread can tolerate up to 5Kg weights.
We take 1 week to process as the order is hand-made on-demand.
Free size.
Shipping cost is based on weight. Just add products to your cart and use the Shipping Calculator to see the shipping price.
We want you to be 100% satisfied with your purchase. Items can be returned or exchanged within 30 days of delivery.